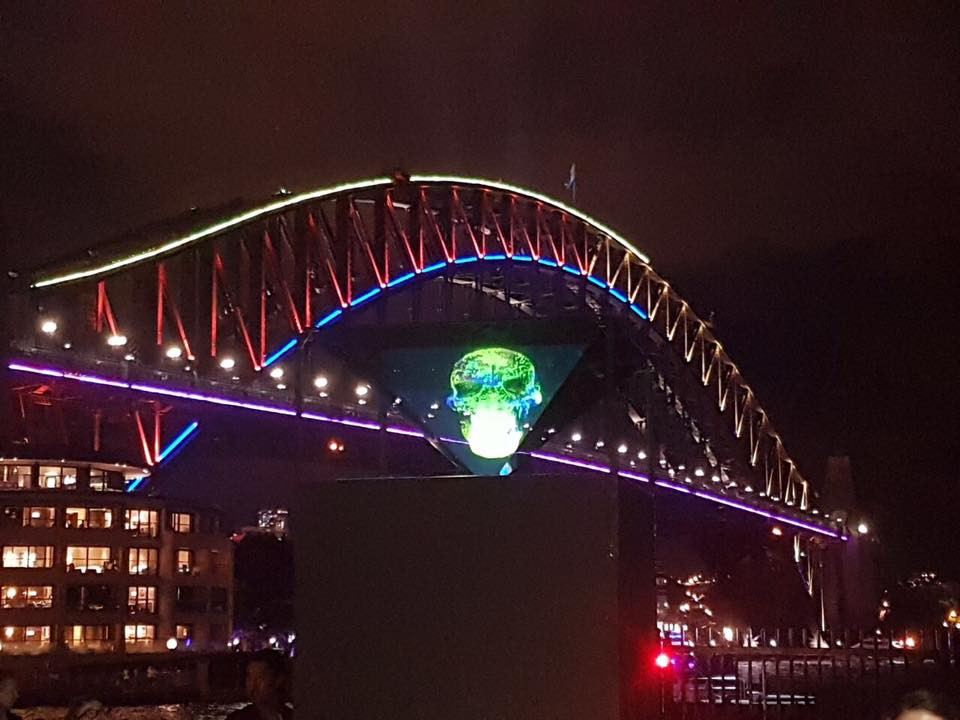 I had the honour of participating in the Sydney Vivid light festival this year as an artist. I entered an installation that I've named The Harbour Watchman. It's been a real blast bing involved in the festival and I'm grateful to the Vivid organisers for giving me the chance to stretch my creative muscles and put my zany idea out there into the world. The project has been keeping me quite busy over the last few months. I worked out of my studio in Marrickville for a couple of days a week and then more often as the date of the festival was looming.
Delivering the artwork on site at the Port Authority was a real blast. How many people get the chance to showcase something they've worked hard on in such a high profile location in full view of the Harbour Bridge and Opera House. It's something I'll never forget.
Official Artwork Summary
The Harbour Watchman is a three meter tall, interactive light installation that uses a 3D inverted pyramid effect known as Pepper's Ghost to display a hologram of a skull made from flowing energy particles floating above a pillar.
The software behind the exhibit, called Vizamp, was written by the artist and brings the skull animation to life. The animation is made up of 70 thousand individually rendered particles, each of which follows a path along a path covering the entire skull.
Sounds made by people passing by are picked up on the microphones, causing instantaneous changes in the appearance of the skull by making it shimmer and change colour.
The public can also interact with the Harbour Watchman by pushing any of the four buttons on each of its side. Each button has a different effect on the animation of the skull.